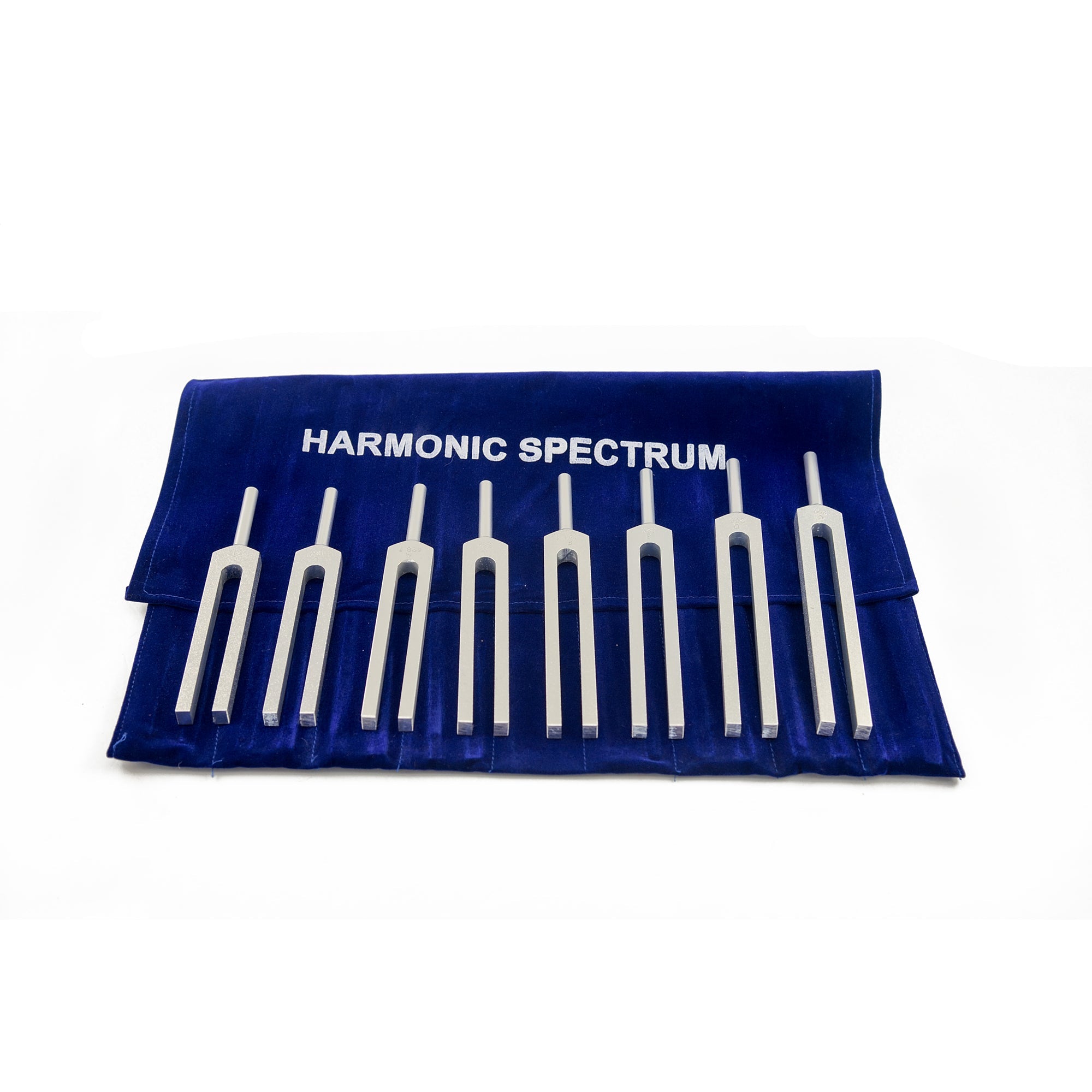 Harmonic Spectrum Tuning Forks – Set Of 8
This Harmonic Spectrum Tuning Forks Set comes with 8 unweighted tuning forks in a carry case.
The set contains a full octave of tuning forks (C, D, E, F, G, A, B, C).
They create a series of musical intervals to help you relax, center and release stuck, blocked energy.
Each interval affects your nervous system in a different way by activating specific healing qualities. This is done by tapping two forks together.
It is also possible to balance the energy in the chakras with this tuning fork set.
This table shows the association between chakras and tuning forks:
CHAKRA
TUNING FORK

 

(NOTE & FREQUENCY)
Root Red
C 256 Hz
Sacral Orange
D 288 Hz
Solar Plexus Yellow
E 320 Hz
Heart Green
F 341.3 Hz
Throat Blue
G 384 Hz
3rd Eye Indigo
A 426.7 Hz
Crown Violet
B 480 Hz
Higher octave of Root

 

White
 C 512 Hz
PLEASE NOTE: IF YOU DO NOT ALREADY HAVE AN ACTIVATOR FOR TUNING FORKS, YOU WILL NEED TO BUY ONE.
We sell 4 different types of activators:
Wooden mallet with a rubber ball end - good for both unweighted and weighted tuning forks
Red rubber activator - best for weighted tuning forks
Black rubber activator - best for unweighted tuning forks
Leg activator with strap - good for both unweighted and weighted tuning forks
For more information, check out our Tuning Forks Courses and our In-Person Sound Healing Training Courses!
The Sound Healing Academy also has a short course available on How To Create Healing Musical Intervals With Tuning Forks.